Top 5 Times Santa Appeared in Video Games
It's almost that time of the year again, when Santa shows up and brings people everything on their video game wishlist. No stranger to video games, Santa has actually made an appearance in several games, though not all of them in celebration of Christmas.
As one of the most iconic characters of all time, Santa has a special place in the hearts of millions of children and adult gamers around the world. Though he does have his origins in the tale of a Christian saint, the modern incarnation is largely the product of a marketing team at Coca-Cola.
So don't get don't too excited if you're one of those sensitive people that thinks a video game might be mocking and/or appropriating a religious figure. They're not.
When he does show up, it's always a good thing. Heck, they even have Christmas in Japan. Get your big bucket of KFC ready and read through our list of the top 5 times we saw jolly old Saint Nick in a game.
5. Shenmue
The open-world game before there was even such a thing, Shenmue for the Sega Dreamcast was a big, big deal when it first came out. The game uses the system's internal clock for certain triggers, one of which is the Christmas day holiday. If you happen to be wandering the streets during December 25 you will likely run into Santa Claus who will wish you a "merry Christmas" then tell you to buy a hamburger. It's a bit stranger, sure, but it also shows off the level of detail the devs lovingly put into this game.
4. Bully:Scholarship Edition
You know anything coming from Rockstar is probably not going to be innocent, and Bully's version of Santa is anything but. Sure, Rudy is a drunk but have you ever been to Santacon? It still counts as an appearance by the big red guy in a game.
3. World of Warcraft
Even World of Warcraft is even getting in on the game with Greatfather Winter, the Santa Claus-like character located in Ironforge. He'll dole out a fetch quest for milk and cookies which will get a player rewarded with XP, gold, and some other stuff. It's not surprising that WoW has its own holiday calendar (it's pretty robust), but it's awesome that they not only incorporate SC but make him into their own character in the form of Greatfather Winter.
2. Clay Fighter 63
Santa is a playable fighter in the 1990s-edgy Clay Fighter 63. He's naked except for a sumo cloth and fights like those wrestlers. Mixing elements of E. Honda and Santa Claus, Clay Fighter's take on the classic character is by far the most unique.
1. Toejam and Earl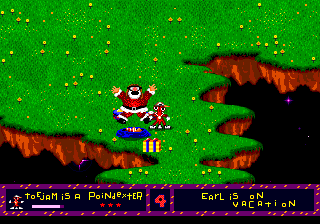 The quirky Sega game that is filled to the brim with late 1980s and early 1990s culture also has a guest appearance by Santa Claus. It's kind of random but, if you see him, you have to sneak up on him. You spook him, he will jetpack away.