Love Fifa? Try: Madden NFL
When it comes to American football games, few command as much attention as the Madden NFL series of games. With a legacy spanning multiple consoles and formats, Madden itself has become synonymous with American style football ever since its debut in 1988.
Published and developed by Electronic Arts, Madden NFL is named after Pro Hall of Fame member and football commentator John Madden. The game has sold over 120 millions copies to date and is hugely influential in the NFL and sports gaming more broadly.
Initially the idea for the Madden series came from EA founder Trip Hawkins, the same man who would later launch the failed 3DO console and company. Hawkins consulted the eponymous pro for his expertise on the game. Ever since its first release in 1988 the game has come out in annual installments that feature updated and modified gameplay.
The game bears the official NFL branding and sports the full complement of teams and their respective rosters. This feature alone is a huge draw for many NFL football fans, but it also lends that sheen of realism that John Madden wanted in the very first game. For his part, Madden provides consultation and guidance on successive installments in the franchise, a service for which he now receives $2 to $3 million annually.
Madden has even influenced the way the American sport is being played on the field, with commentators calling this style of game "Maddenball." Even sports broadcasting takes minor cues from the game in terms of visual presentation and the display of information. Madden is so huge for the NFL, in fact, it provides the second largest source of licensing revenue after merchandising and apparel.
One of the peak moments for the series arrived in 2004 when publisher Electronic Arts secured exclusive rights from the NFL for the use of its license with Madden titles. This deal was later extended into 2013 and has remained intact since. What this did, in effect, was remove the NFL slant for a lot of competing titles, such as NFL Blitz, now simply called Blitz. EA's "monopoly" over American football games in the form of Madden doesn't seem like a trend that is going to shift anytime soon, especially given the lack of viable competitors out there.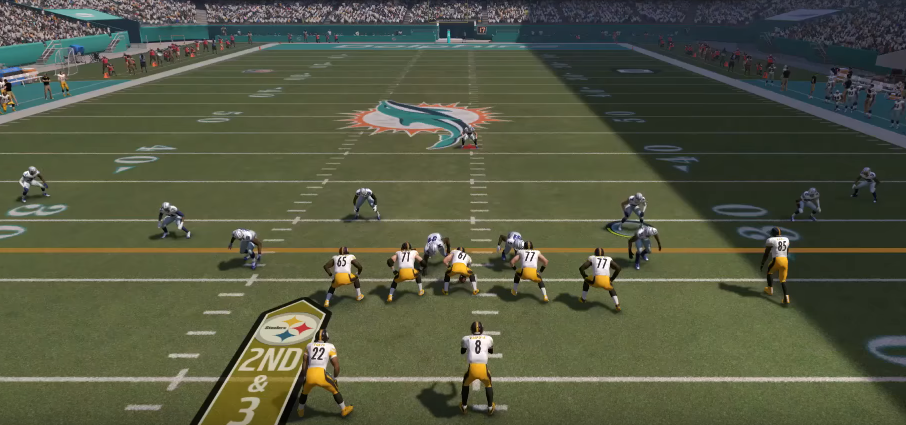 As with FIFA, Madden has a huge community of players and tournaments and is a cultural touchstone for many that are involved in American football.
Though the exclusive license does give it that extra boost in terms of street cred, Madden's adherence to fairly strict quality standards and iterative, non-disruptive gameplay changes make it a standout series among all video game series. Electronic Arts as a publisher often struggles in the public perception. Madden's success given the perception of EA as a whole stands out and really helps solidify EA's position as a dominant sports gaming publisher.
The future for Madden looks quite bright given the series continual sales success. As for the mainline sport of football, we expect the two will still influence one another for years to come as well. What will be interesting to see is the emergence of eSports and how it handles games from officially licensed titles like Madden NFL and FIFA.